The reason for the construction of the temporary canteen is that one of the buildings of the future Albertov Campus (Biocentre building) has an existing canteen, which will have to be demolished before the main construction work begins. For this reason, during the construction of the Albertov Campus, it is necessary to provide substitute catering for both students and staff attending lunch at this existing canteen.
Two options were considered:
1) using the catering facilities around the Albertov Campus
2) construction of our own temporary canteen in Albertov
After evaluating all the pros and cons of both variants, it was decided in the favor of building of the temporary canteen, with the location being on the grounds of the Convent of the Elizabeth Sisters, specifically in their garden adjacent to the existing canteen. This will ensure that the existing walking distance to the canteen remains the same.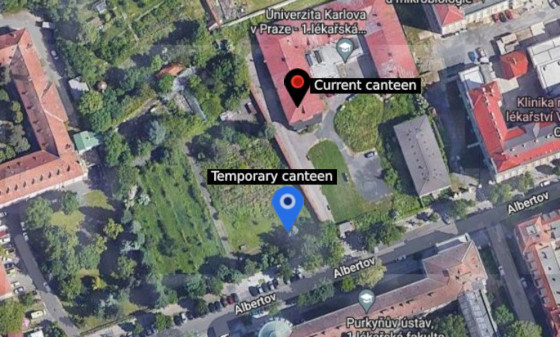 It was expected that this temporary canteen would be used from the beginning of the 2023 school year up until the new permanent canteen will be opened as part of the completed Albertov Campus.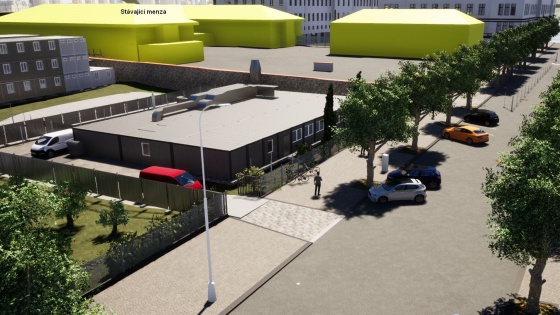 The temporary canteen will take a form of a single-storey building consisting of several interconnected cells. This solution is both very economical and flexible to adjustments. Moreover, the actual construction is simple and fast without major demands for the site preparation.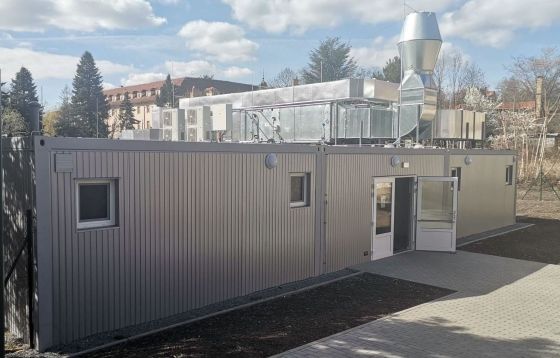 Temporary canteen building was open for students, employees and the public to use on the 27 February 2023.